It can't happen again, can it? After two devastating losses last season, it was seen as USC's chance at a long-awaited catharsis, one last shot at hitting a comeback punch against Utah, which has been without its star quarterback — and a functioning offense — all season.
As the 14th-ranked Utes took a two-score lead into the fourth quarter Saturday at the Coliseum, the familiar heartbreak of a season ago in Salt Lake City seemed to simmer.
USC's game struggled to move the ball. Its defense struggled to get stops, but got a big lift from Galen Bullock's pick-six early in the fourth.
However, USC trailed by five after a late field goal, and Utah got the ball back with three minutes left. Boos rang out throughout the Coliseum. Given the slide that began the previous Saturday at Notre Dame, there was frustration.
Then, the defense forced a three-and-out, Zachariah Branch, the electric freshman, took a 61-yard punt return, and hope suddenly rose again. One play later, Caleb Williams hit Bay Dirt on an 11-yard run that gave USC a one-point lead.
But hope is no match for a crippling heartbeat. Not against Utah. Not for USC, which let the Utes slip away for a field goal and hand USC a devastating 34-32 loss.
All evening USC seemed to have no business escaping with a win. Williams had another mediocre game, passing for 256 yards and no scores.
Yet USC's fourth-quarter plays put it in position to steal the win. Then came the familiar problems on Utah's final drive, including Pierre Alexander penalties that put the Utes down first. Even then, Utah was at the USC 40 with 16 seconds left, out of field goal range.
The Utes took possession, USC countered, and quarterback Bryson Barnes took off, weaving his way into the range of Utah kicker Cole Becker until he got to the 19-yard line. .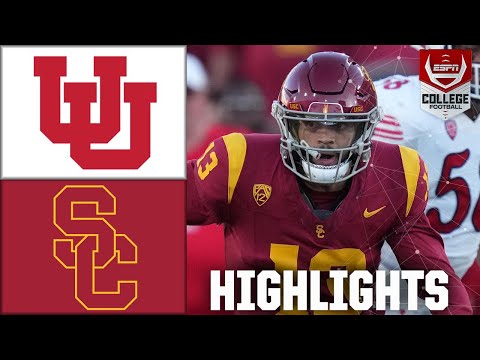 All Becker had to do was kick a field goal from 38 yards out to cap another disastrous loss for USC.
It bore an unfortunate striking resemblance to last October, when Utah drove and allowed quarterback Cam Rising to complete a two-point conversion and take the lead with seconds remaining.
Except this time, Utah was without Rising, the hero of the last two matches. The Rising had a worse run than USC, including in the Pac-12 title game.
Utah didn't need him this time as backup Barnes had a career-best performance, breaking through USC's brutal defense for 235 yards and three touchdowns.
It was Barnes who would fit that final blow, one that could break USC's heart and put its season on the brink.